Updated: Updated: Architecture
Part 1 of this mini-series contemplated an architectural model for a learning path for architects. Now it's time to fill this model with some content, i.e. reading recommendations, to build an architect bookshelf.
We start from the bottom up, beginning from the design of single components and inching up to a wider scope. I present a "shelf" for each layer in my model. This means that the model has a linear dimension (axes kinda tend to be), but of course you are free to plot your own path across these layers.
Let me highlight that the books I mention here aren't any sort of a "top 10" list, which would relegate other books to lower positions. Rather, it is a sampling based on my experience and is meant to depict one plausible path for architects without precluding many others from co-existing.
Shelf 1: Single Components
When designing a single software component, architects should focus on good coding and design practices. Following the horizontal axis from left to right (from specific to abstract), I find the following books to be useful for this layer (with overlay links - thanks, Jekyll!):
Strictly speaking, design patterns are concerned with multiple "components" if you consider a class a component. I'll go with a more physical definition of "component" (aka "service") so I am happy to group OO patterns into "single component".
Shelf 2: Connected Components
Interesting software rarely lives in isolation, so we should look at how work is broken down into pieces and how the pieces are interconnected. The following books provide architectural guidance on this layer:
I would love to have included a book on API design in this list as the interfaces are a critical element of wiring pieces together. Most books I have read are quite specific to a single protocol or style, though (like REST). I'd prefer a title that goes into trade-offs and design decisions more so than recipes or best practices. I'll keep looking.
Shelf 3: Entire Systems
Now it's time to zoom out further and look at the system as a whole, the forest and not just the trees, so to speak. This is where we find several of the "classic" software architecture titles:
There are quite a few more more books that I'd like to include in this "shelf" but I have not been able to read (or buy) all of them yet. For example, System Architecture is on my list but it's $130+, so it's kinda difficult to include it in a recommended reading list.
Shelf 4: Context
Experienced architects know well that the story doesn't end with being able to design entire systems. Architecture happens in context (we deal with the "non-requirements"), so understanding that context is an important skill for an architect. In fact, missing the context renders all other elements irrelevant. So, there's one more shelf on the top:
Many more books would belong on this shelf. Rather than pick a fourth title, I'd like to include a pointer to other relevant domains such as enterprise architecture (good books about which are surprisingly rare), business architecture (good books about which are rare to the point of almost non-existent). I am inserting a pointer here to a previous blog post on the penthouse architect bookshelf (and what more appropriate animal to choose than a Maus?).
The First Derivative
As if the banner image wanted to give a hint, we find that our model is missing an important dimension: time. As hinted in Part 1, architects live in the first derivative—they deal with rate of change as a major input into their design. So in an Interstellar-esque move (see the banner image) we have to add time to our bookshelf. I have no idea what that looks like (I'm no Christopher Nolan), so I'll just make a little stack of books on the side: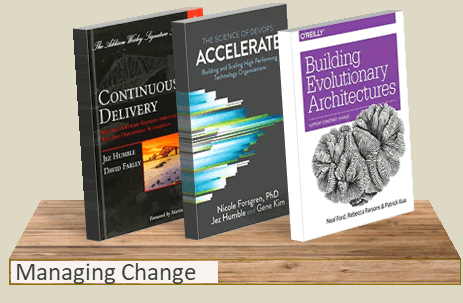 The Whole Shelf
So, here's a cut at the whole architect's book shelf based on our architectural model of a learning path:
An Architect's Real Bookshelf
What does a real architect's bookshelf look like? Here is a small sample—two of my more organized shelves (click to enlarge):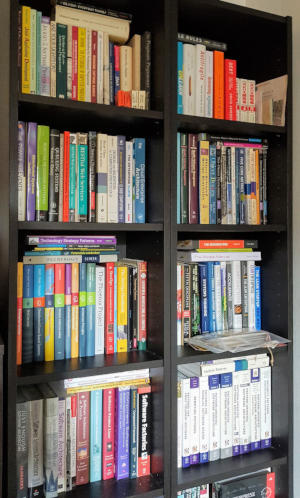 You can see almost all the titles I mentioned in this shelf, including the whole POSA series on the bottom right and a section on Software Architecture (with a good SEI representation) next to it. Above, a section of Springer Books, DevOps / Accelerate, and Systems Thinking. Then we move towards Object Design and Cloud / Web Services / Events, before arriving at software management classics like the Mythical Man Month, and finally broader books like Thinking Fast and Slow and Antifragile (ignoring the amazing Japanese train schedule books). Curiously, my books are almost in the order we chose for our learning path.
What's Missing?
There surely is a lot missing from my bookshelf. I need to find a place for Simon Brown's books on Software Architecture for Developers, for example. And Mike Nygard's Release It!, which touches on many important operational aspects.
Also, you notice that books targeting specific products or associated certifications are absent. Those certifications also offer a path, but that's really a parallel universe. I often refer to them as the "driver's license" whereas I am looking to help architects become successful racers. Having a license doesn't hurt, but you won't win the race with it.
I think that quite a few books are also still missing from the book stores. Aside from Enterprise Integration Patterns 2, the books I am missing most are those that are conceptual in nature but have the same depth of discussion as the hands-on programming titles.
It seems that we have to choose between detail at a low level and fluff at a high level—I don't think that's right. Cloud Strategy is my initial step at filling this gap and we should see more books along these lines. Keep a bit of spare room on your bookshelf!
Make More Impact as an Architect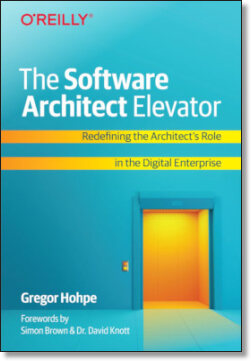 My book The Software Architect Elevator helps architects and IT professionals play at the intersection of technology, organization, and transformation by sharing the real-life journey of a chief architect. Buy it on Amazon US, Amazon UK, Amazon Europe