IT Transformation:
Connecting penthouse and engine room
Many large enterprises are feeling pressure from digital disruptors who attack with brand-new business models and aren't held back by legacy or infrastructure assets. Transforming successful enterprises that are built around traditional technology and organizational structures to compete in the digital world requires a direct connection between the penthouse, where the business strategy is set, and the engine room, where the enabling technology is implemented. I call this connection the Architect Elevator.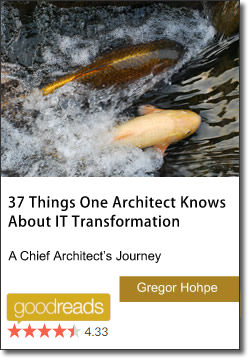 Spending five years as chief architect in a large enterprise transformation plus advising numerous CTOs ranging from unicorns to established enterprises taught me the challenges and rewards of changing an organization's way of working. My book 37 Things One Architect Knows About IT Transformation documents my insights as light-hearted anecdotes with serious content.
Order the book as a DRM-free E-Book or in print from Amazon [UK], [DE]. Or look at the detailed table of contents or sample chapters first. I am proud to have a 4.33 star rating on Goodreads.
Ride the Architect Elevator with me
My blog gives you access to my recent thoughts on enterprise architecture, IT strategy, digital transformation, and cloud computing. If you follow me on Twitter or Linkedin, you won't miss a post.
Architect Elevator Workshops for architects and IT leaders go into more depth and show you how to apply the concepts to your situation. Next workshop: February 23-24 in New York City.
In a hurry? My Architect Elevator Talk from TNG's BigTechDay tells (almost) the whole story in just 50 minutes!