The Transformation Architect
Connecting penthouse and engine room
Modern architects align organization and technology, reduce friction, and chart transformation journeys. In addition to working with UML and architecture styles, such architects ride the Architect Elevator from the penthouse, where the business strategy is set, to the engine room, where the enabling technologies are implemented. They shun popular buzzwords in favor of a clear strategy defined by conscious decision making.
This site helps architects and IT leaders be successful in this new role based on my experience working for digital disruptors and leading transformations in traditional enterprise IT.
Architecting IT Transformation
Many large enterprises are feeling pressure from digital disruptors who serve users' increased expectations with innovative business models and little legacy. Competing in such an environment remains a massive challenge for enterprises that rely on traditional technology and organizational structures to be successful.
Architects and CTOs play a critical role in transforming such organizations. They combine the technical, communication, and organizational skills to derive business value from a tech stack refresh. They see more dimensions and bust common disbelieves, for example showing that moving faster can actually increase quality.
These books prepare you for a more exciting role as IT architect or decision maker: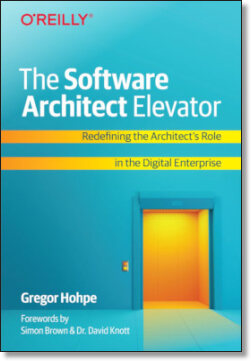 My "law" now has its own page.
Excessive complexity is nature's punishment for organizations that are unable to make decisions.
This YouTube playlist has all my talks on architecture. The Architect Elevator Talk is a good start.
I've done Podcasts with Neal Ford, Henry's Tech Lead Journal, Postman's Breaking Changes, and the AWS Conversations with Leaders series (Spotify or Google Podcasts).
Popular blog series:
Follow me on Twitter or LinkedIn or Subscribe to the feed.