I've been an architect for most of my career, sometimes by title and often by spirit. Having designed systems and driven change in organizations ranging from Silicon Valley digitals to large enterprises and the public sector, I have come to realize that successful architecture spans both technology and organization. Read about my experiences riding the Architect Elevator from the engine room to the penthouse in my books and my blog.
Short Bio
As Director of Enterprise Strategy at AWS, Gregor helps technology leaders transform both their organization and their technology platform. You'll find him riding the Architect Elevator from the engine room to the penthouse, perhaps automating serverless solutions in the morning and preparing board presentations in the afternoon. His favorite pastime is dissecting buzzwords and replacing them with meaningful decisions and architectural trade-offs.
Before joining AWS, Gregor has served as Smart Nation Fellow to the Singapore government, as Technical Director in Google Cloud's Office of the CTO, and as Chief Architect at Allianz SE, where he oversaw the architecture of a global data center consolidation and deployed the first private cloud software delivery platform.
Gregor is known as co-author of the seminal book Enterprise Integration Patterns, which provided the reference vocabulary for all modern ESBs. His book The Software Architect Elevator tells stories from the trenches of IT transformation while his articles have been featured in Best Software Writing by Joel Spolsky and 97 Things Every Software Architect Should Know. He is an active member of the IEEE Software advisory board.
Images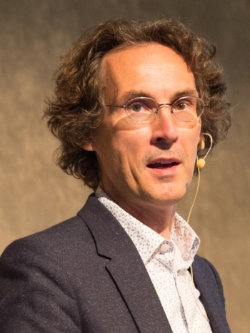 Contact
Contact me via Twitter, LinkedIn , or the mail link in the footer.
Site Details & Privacy Policy
This site was built using the open source Jekyll site generator and the Minimal Mistakes theme. It's hosted on Firebase Hosting, which includes free global CDN and SSL certs. The site does not use Google Analytics for Firebase.
This static site does not collect personal information. It configures Google Analytics to anonymize IP addresses and to not share data with Google.